Allow natural death / Te wa aroha
Allow natural death / Te wa aroha
A decision to allow natural death does not indicate a withdrawal of care. Children who have a life limiting illness need to have a clear plan in place which ensures they receive emotional, cultural and spiritual support, and are free from pain. A sample end of life care plan used at Starship Hospital is available.
Purpose
To ensure that children who have life limiting illnesses have a clear plan in place for end of life care.
Developing an end of life care plan
The following information, in addition to an end of life care plan, can be used instead of a not for resuscitation order.
A sample end of life care plan (below) is available for health professionals to use as needed. This is the end of life care plan used at Starship Children's Health.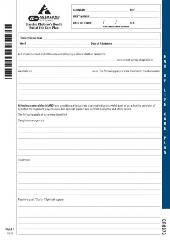 Definitions
Allow natural death
A decision to allow natural death does not indicate a withdrawal of care, and in addition to agreed interventions the child will continue to receive:
prompt assessment and management of pain and other distressing symptoms
other comfort measures including emotional, cultural and spiritual support
privacy and respect for the dignity and humanity of the child and their family
management of hydration and nutrition needs as appropriate to the circumstances
oral and body hygiene
CPR
The expression CPR includes a number of treatment options including:
rescue breathing
cardiac compression
tracheal intubation
electrical cardioversion
resuscitation medication
Treatment decisions
Where cardiopulmonary arrest or death is considered a likely possibility in a child with a known life-threatening condition, some or all medical interventions including cardio-pulmonary resuscitation (CPR) may not be in the best interests of the child.
The end of life care plan is the responsibility of the lead health professional and must, wherever possible, be fully discussed with:
the parent or guardians (first priority)
the child (at a level appropriate to the competency of the child)
any family and whānau members appropriate to include in this collective discussion
ward medical, nursing and allied health professionals
The plan may change over time depending on circumstances but each change requires further discussion.
Decision-making in this situation does not lend itself to a prescriptive approach, but requires an individualised style determined by the facts of each case. Decision-making must take into account the cultural values and beliefs of patients, particularly the spiritual essence of allowing a natural death.
Discussions are best held at the earliest opportunity as there is good evidence to suggest that this improves quality of life through timely access to palliative care, often allowing the child and their family/whānau to express their wishes and achieve personal goals.
It is important to emphasize to the child and their family what can be done rather than focusing on negative statements.
The discussion of options can benefit from the use of terminology such as:
"allowing a natural death" and
"continuing care"
Avoid negative statements such as:
"there's nothing more we can do" or
"not for resuscitation"
Documentation
The plan should indicate which medical interventions need to be carried out in the event of deterioration including cardio-respiratory arrest. The plan should also indicate those interventions which do not need to be carried out. For example, the plan may specify suctioning of the airway and oxygen administration, but exclude assisted ventilation and CPR.
Reviews of the end of life care plan may be necessary as circumstances change. Health professionals need to be mindful of when and how often changes or review are appropriate. This can be discussed with the parent or guardian and should be clearly documented.
Communication
The plan should be fully discussed, with all relevant health professionals, parents or guardians, family/whānau members and, where appropriate, with the child, maintaining a focus on family-centred care.
It is important that communication with the family and child or young person is in the language best understood by the family and delivered by staff who have at least developed some rapport with them.
It's important that the family's GP has a copy of the plan.
Sometimes disagreements occur between health professionals and parents or guardians following discussion of the plan. If this arises, health professionals can access support systems within their organisation (for example, Ethics Committee). They may also contact the Paediatric Palliative Care Team at Starship.
Advice and help for the family should be provided. This should include advising the family about the nationwide Health and Disability Advocacy Service. The family also has the option of seeking their own independent legal advice at any time.
See information on this website about health and disability services consumers' rights.
There is information at the Starship website about the specialist palliative care team who are available to provide advice.
References
Royal Australasian College of Physicians (RACP): Paediatrics and Child Health. 2008. Policy: Decision-making at the end of life in infants, children and adolescents [Accessed 10/11/2015]
Acknowledgements
Adapted from the following:
On this page
Printer-friendly version