Mobile phones and text bullying
Mobile phones and text bullying
Printer-friendly version
Key messages about text bullying
text bullying can take a number of forms:

–

 mean or offensive messages

–

being bombarded by a large volume of messages 

–

offensive or upsetting photo or video messages

–

 threatening messages

–

 persistent unwanted messages

there are steps you and your child can take to protect them from mobile phone bullying and there are also things you can do if bullying occurs or persists

if your child is receiving unwanted messages on their mobile phone, you can call 0508 NETSAFE (0508 638 723)
What can I do if text bullying affects my child?
If your child is receiving unwanted messages on their mobile phone, you can call 0508 NETSAFE (0508 638 723).
Vodafone NZ and Telecom NZ have joined with NetSafe to combat text bullying.
If you are a Telecom customer and the bullying persists, call them free on 0800 809 806. Hours are Monday to Friday 9:00am to 4:00pm.
If you are a Vodafone customer, call them free on 777 from your mobile, or on 0800 800 021 from a landline. The Vodafone call centre is available seven days, from 8:00am to 8:00pm. Vodafone also provides a free TXT service to help any customers who are being targeted by a TXT bully. You can TXT the word 'bully' to 4001 and Vodafone will be in touch to get information and investigate. If necessary there are a number of things Vodafone can do to help, such as warning the bully, stopping TXTing from their account, temporarily barring their account or even permanently deactivating their account.
The following information about mobile phones and bullying is available to help you: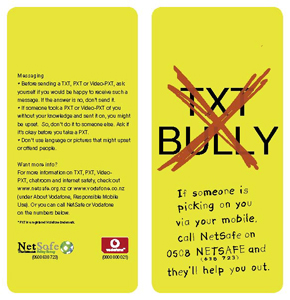 Netsafe's section about mobile phone bullying and harassment (including what to do about unwanted messages; who to call about unwanted messages; what your mobile phone company can do; how to make a complaint to the mobile phone company; things to discuss with young people to help prevent text bullying; tips for using text chat)
a Vodaphone / Netsafe brochure about text bullying (at right)
Where to go for more information and advice
ISG (Internet Safety Group): NetSafe
www.netsafe.org.nz
NetSafe, the programme of New Zealand's ISG, is cybersafety education for all New Zealanders - children, parents, schools, community organisations and businesses. The ISG has been designated the Ministry of Education's 'agent of choice' for cybersafety  education in New Zealand. This is an independent non-profit organisation whose members represent a range of organisations including the New Zealand Police and the Ministry of Education.
You can contact NetSafe between 8am and 6pm.
Phone: 64 9 362 0971 or 0508 NETSAFE (0508 638 723)
Content endorsed by the Paediatric Society of New Zealand
15 March 2013
© Paediatric Society of New Zealand and Starship Foundation 2005 – 2013
Printed on 23 May 2013. Content is regularly updated so please refer to www.kidshealth.org.nz for the most up-to-date version
DISCLAIMERThis fact sheet is for educational use only.
Please consult your doctor or other health professional to make sure this information is right for your child.
Copyright
Fact sheets are subject to copyright. In the interests of information sharing they may be copied but acknowledgement must be given to PSNZ and Starship Foundation.
© The Paediatric Society of New Zealand and Starship Foundation 2005 - 2012