Printer-friendly version
Key points to remember
realising child abuse has occurred can be traumatic for all involved
nobody knows exactly how much child abuse goes on in the community because so much of it is hidden

abuse and neglect need to be treated seriously because their effects can be very harmful and may last a lifetime

for the child or young person, a discovery or disclosure of abuse may cause anxiety or fears to arise - it's important for them to know they are believed and safe, and to make sure they have access to the right services

know that there are specialist services in the community that can help

Child, Youth and Family is the government agency with powers to intervene to protect children who are being abused or neglected - you can call them on 0508 FAMILY (326 459)
there is a close relationship between child abuse and family violence
if you or your children are affected by family violence, call the Family Violence Information Line on 0800 456 450 to find out about the organisations in your area who can help
if you or a child are in immediate danger, call the police on 111 within New Zealand (use the appropriate emergency number in other countries) 
What medical services are available for children who have been abused?
Child abuse can be categorised as sexual, physical, emotional or neglect. Sometimes a child has experienced just one form of abuse but we know that there are a proportion of children who will experience more than one form of abuse. There are a number of ways a child can be referred and seen by appropriate services. Some of these are explained below.
Paediatric services at your local hospital usually see acute cases of physical abuse. Often CYF (Child, Youth and Family) or the police become involved first, and refer the child or young person to a relevant doctor for a physical examination.
If you take your child to see a doctor because of a concern about sexual abuse, they should refer you to a doctor who is specially trained in sexual abuse care. DSAC (Doctors for Sexual Abuse Care) provides this training for doctors in New Zealand. Some doctors may have received training in sexual abuse care overseas.
In some areas, a paediatrician at the local hospital will be the DSAC trained doctor. In other areas, it will be a GP (general practitioner).
Your family doctor, local accident and emergency clinic, or hospital emergency department should always be able to consult with a DSAC-trained doctor. All DSAC doctors are trained in the care of sexual assault victims, and are willing to help you.
The local police or the paediatrician at your local hospital will be able to help you to find a DSAC doctor.
You can contact the DSAC National Office directly during working hours on 09 376 1422. DSAC regional liaison doctors can also refer you to a DSAC doctor in your area. There are DSAC regional liaison doctors throughout New Zealand and these are included on the pamphlet Help for children and for adult survivors of child sexual abuse and assault (PDF, 44KB).
In some areas, there are dedicated health services for child and adolescent abuse. For example, in Auckland, Te Puaruruhau is a regional service for children and young people in the 0 - 19 age group who have experienced abuse or neglect. This service is located in a multi-agency centre with the New Zealand Police and the Department of Child, Youth and Family. The centre is called Puawaitahi. Referrals to this service will usually be made by your doctor or local hospital, or your local CYF (Child, Youth and Family) or police station. Referrals are also received from school nurses, counsellors, and family members or other concerned adults. Te Puaruruhau can be contacted directly, within New Zealand, during working hours on 09 307 2860.
What happens when my child sees a doctor for sexual abuse?
The DSAC (Doctors for Sexual Abuse Care) website provides information for families and children on the medical care and assessment of sexual abuse and assault.
Going to the doctor (PDF, 480KB) includes information under the following headings: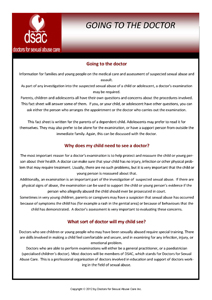 why does my child need to see a doctor?
what sort of doctor will my child see?
what happens in the examination?
what tests are needed?
will the examination hurt?
what genital (or anal) injuries are likely?
can there be any permanent problems?
can I ask questions and discuss worries?
what other agencies need to be involved?
who will be given information about the examination?
Surviving sexual abuse
Counselling may help the healing process for a child or young person who has been the victim of abuse. As this is a very specialised area, wherever possible, your child should see an approved counsellor who has experience in this area.
Sometimes a child doesn't want to see someone immediately. They can choose to see a counsellor at a later date.
ACC (Accident Compensation Corporation) provides ACC-approved counsellors for children who have been sexually abused and can help with some of the costs of counselling. You can find registered counsellors by region, including ACC-approved sexual abuse counsellors, at the ACC website. For ACC contact details, see Child abuse (information and support)).
You can contact your local Citizens' Advice Bureau for details of local crisis counselling services, as these differ from centre to centre.
There is a factsheet on surviving sexual assault (PDF, 42KB) at the DSAC (Doctors for Sexual Abuse Care) website. The DSAC website also has a factsheet about help for children (PDF, 44KB). There is information on the following:
what is child sexual abuse or assault?
what children are at risk?
what sort of person does this to children?
what help is needed?
help to stop sexual abuse
help for physical problems
help for emotional problems
who can give this help?
This page last reviewed
06 November 2013
© Paediatric Society of New Zealand and Starship Foundation 2005 – 2015
Printed on 28 July 2015. Content is regularly updated so please refer to www.kidshealth.org.nz for the most up-to-date version