---
Propranolol For Treating Haemangiomas
The following leaflet for parents and carers is about the use of propranolol for treating haemangiomas.
Haemangiomas are a common form of blood vessel birthmark. They are caused by benign growth of capillaries (small blood vessels) in the skin.
Click on the image below to read the leaflet (PDF, 85KB) at the Starship Children's Hosptial website.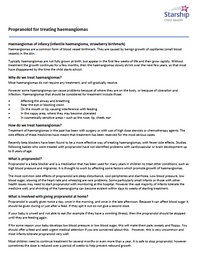 [1]
---
Source URL: https://www.kidshealth.org.nz/propranolol-treating-haemangiomas?language=rar
Links
[1] https://media.starship.org.nz/propranolol-for-treating-haemangiomas/infantile-haemangioma.pdf
[2] https://www.kidshealth.org.nz/contact?from=http%3A%2F%2Fwww.kidshealth.org.nz%2Fprint%2F2463%3Flanguage%3Drar