Key points to remember about creating a safe environment for children with diabetes at school
children with diabetes go to early childhood education and school and participate in all normal educational and social activities
every child living with diabetes has specific needs
it is important to work closely with school staff to create a safe environment for your child or teen with diabetes
How is diabetes managed at early childhood education and school?
Children with diabetes go to early childhood education and school and participate in all normal educational and social activities.
A diabetes healthcare provider will generally work with your child or teen, your family and teachers. This is so school and early childhood staff know about the safe management of diabetes and can involve your child fully in education based activities without discrimination.
You might like to share a 30 minute video with staff at your child's school. The Starship diabetes team developed it especially for school staff, to increase their knowledge and understanding of diabetes. It's available on the Starship website.
Watch the video - taking diabetes to school [1]
Diabetes action and management plans for early childhood education and school
It is important to recognise that every child living with diabetes has specific needs. The 'Clinical Network for Children and Young People's Diabetes Services' has developed a collection of school action and management plans. These aim to support families in creating a safe environment at school for diabetes care. Families need to complete the plans with the support of their local diabetes treating team before sharing them with relevant school staff.
The Starship website has action and management plans for early childhood education, primary and secondary schools.
See all the action and management plans [2] 
What are some other diabetes resources for schools?
As well as an action and management plan, there are other resources which should be available to your child's school.
School resource flip chart
This is available from Diabetes Youth New Zealand and covers the following topics:
introduction
what is diabetes?
high blood glucose (hyperglycaemia)
low blood glucose (hypoglycaemia)
treatment of a mild to moderate 'hypo'
treatment of a severe 'hypo'
food and diabetes
camps
exercise and diabetes
diabetes treatment at school/exams
family, other topics and student's services
Hypo pack
This includes items that would be used in the event of a 'hypo' or low blood sugar episode and clear instructions on how to administer. Items could include glucose tablets, juice drinks as well as carbohydrate snacks.
How can we create a safe environment for my child with diabetes at school?
It is important for families to work closely with school staff to create a safe environment for diabetes. Parents need to arrange a meeting with the school as early as possible to discuss the action and management plan and associated care requirements.
Important points to cover with school staff
Completing management plans
It's best for families and whānau to complete management plans with school staff. There is a lot of online and written material to help support school and early childhood education staff. If needed, healthcare professionals can help with planning. But, whānau know their child or teen best and should be the main contact.
Wearing medical identification
Children with diabetes should always wear medical identification (such as a wrist band or bracelet) at school.
Testing glucose levels and injecting insulin
It's very important to allow children with diabetes to:
test their glucose levels in the classroom if they wish
inject insulin in public if they wish 
It's also important to offer them privacy to do either of these if they prefer.
When there are symptoms of hypo
Never leave children with type 1 diabetes alone when they are having symptoms of hypo.
Don't prevent them from eating or drinking to treat or prevent a hypo.
Exams
There are special conditions for young people living with type 1 diabetes sitting NCEA or Cambridge examinations. Negotiate these with your child's school at the beginning of each academic year. Your young person's school needs to submit a 'specialist medical report' to NZQA, early each academic year, for each young person. This report confirms the special requirements for students with diabetes.
Check the Starship website for information about young people with diabetes and exams.
Go to the bottom of the Starship page for information about exams and diabetes [2]
See more KidsHealth content on diabetes
Check out KidsHealth's section on diabetes [3]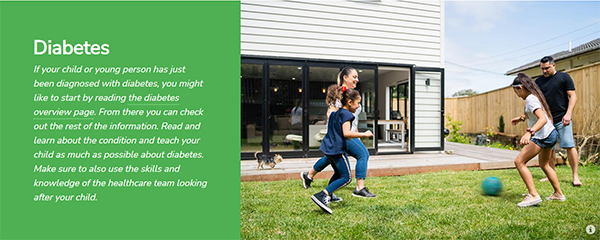 [3]