Key points to remember about supporting your teenager with cancer
cancer and treatment may limit the number of activities your teen can do
teasing or rejection by other teens can result in your teen withdrawing from extracurricular activities or even from school
teenagers can feel an enormous amount of pressure to achieve at school post-treatment despite missing chunks of their education
open communication can help with many issues
it is important for teenagers with cancer to work on positive thinking skills and short-term goal setting
sadness and worry are normal reactions, but if your teen seems overwhelmed or shows signs of not coping - don't be afraid to talk about this or ask for help
your teen's health school teacher can help your teen return to their own school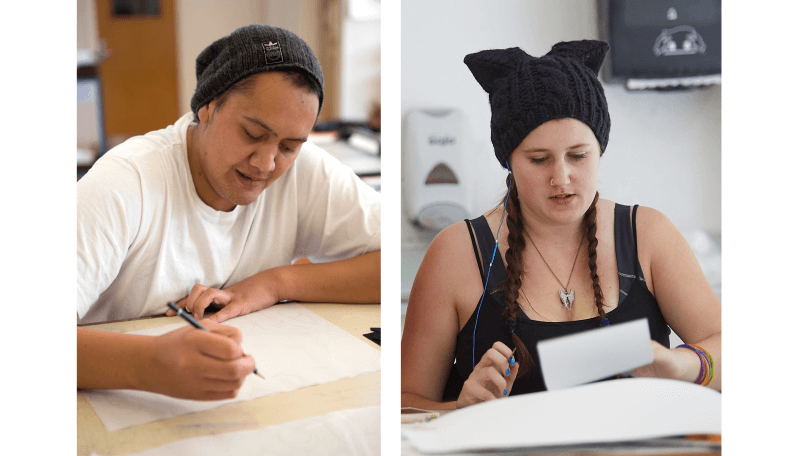 How cancer disrupt my teen's development?
Having cancer often interrupts the normal developmental process a teenager goes through as they become increasingly independent from their parents and other adults.
Cancer and treatment may also limit the number of activities your teen can do. This may mean you and others end up caring for your teen like a younger child.
You may find that you want to keep your teen close to keep them safe and well. This can be frustrating for your teen, who may want more independence.
Counselling by trained professionals for you and your teen can help open up lines of communication. It can also help your teen to develop strategies that allow them to safely exercise more freedom of choice in school and home life.
Encourage your teen to get in touch with CanTeen - a peer support group supporting young people living with cancer or a life-threatening blood disorder. CanTeen can also support teenage siblings.
How can I help prevent my teen with cancer from feeling isolated?
At a time when self-identity and teen friendships are hugely important, other students can quickly classify a teenager with cancer as 'different'. This can be due to both the illness and the resulting physical changes from treatment.
Physical limitations and/or anxiety can interfere with taking part in sport and school activities. This can leave your teen feeling isolated. Teasing or rejection by other teens can result in your teen withdrawing from extracurricular activities or even from school.
You can help by encouraging them to participate in activities based on their strengths, either at school or outside of school. CanTeen also offers peer support activities and opportunities to young people living with cancer.
Encourage your teen to work on positive thinking skills and goal setting. It is a good idea to involve your teen's school guidance counsellors from the very beginning.
How can I tailor support for my teen with cancer?
"I was also told by my teachers that I did not have to attempt every standard, and only do what I needed to pass which was really good, as I didn't need to stress on not having enough time, dealing with chemo brain etc". Teri.
It is important to think about your teen's personality and preferences before helping them to fit back into school and social environments. Teenagers who were shy before diagnosis, for example, will have different needs and tendencies than those who enjoy large social networks.
It is important to talk with your teen about their social needs and expectations and the level of support that they are comfortable with.
A CanTeen youth support coordinator can encourage and support your teen to talk through their feelings and provide access to professional counselling if they need it.
It's a good idea to work with your teen to identify in or out of school activities or social networks to build confidence. Goal setting may be a useful tool to help plan their next steps.
How can I help my teen with cancer to navigate the busy school environment?
The size and complexity of your teen's secondary school can have an impact on their return to school.
Secondary students deal with many teachers and different students and classes. While immediate classmates may be understanding and supportive, other students may not know about your teen's illness or treatment.
Having one or two friends who are well informed and close to your teen will help them to feel supported and included, even if other children are not aware of their circumstances.
Secondary schools can also be large and spread out, which can be difficult if your teen has physical problems or suffers from fatigue. Talk with the school about letting your teen leave class early if they need to. This will give them more time to get to their next lesson and help them avoid the rush of other students.
Should I ask the school to be flexible with rules for my teen with cancer?
Talk with your teen's school about any rules that may need flexibility. Rules such as not wearing hats may need relaxing if your teen has lost their hair.
How can the health school help my teen with cancer?
Your teen's health school teacher will discuss with you and your teen any concerns you may have about your teen returning to their school. They can organise a meeting with key staff at the school. They can then discuss with the school whether your teen will need to begin part-time, how their timetable might look, and what support the school might be able to offer.
How can ongoing communication with the school help my teen with cancer?
"There was good communication between the Southern Health School and my school so everyone knew where I was at with my work, and were able to support me as much as needed." Teri.
Good, open communication between you, your teen and the school can help prevent further challenges for your teen.
Having a single school staff member to act as the key contact will help create open communication channels. This staff member can be responsible for liaising with you. They can also share information with all the teachers involved with your teen as appropriate.
Ongoing contact between you, medical staff, and a school representative is essential. This is especially true at the beginning of terms and when your teen's medical condition changes. These changes could be due to complications from treatment, relapse, or another illness.
Who should be my main contact at school?
It can be useful to have a single, trusted staff member at the school to meet up with your teen to discuss their academic, social and emotional progress on a regular basis. This could be the principal, your teen's main teacher, their syndicate leader or their favourite teacher.
What are derived grades and Special Assessment Conditions?
If your teen is too sick to sit exams, or if treatment has had a major effect on their performance in an external assessment, they can apply to the New Zealand Qualifications Authority (NZQA) for a derived grade. A derived grade is based solely on your student's pre-existing results record held by your school.
Visit the NZQA website to find out more about derived grades [1].
They may also be able to apply for Special Assessment Conditions (SAC). Special Assessment Conditions provide extra help for approved students when they are being assessed for their NCEA to give them a fair opportunity to achieve credits. The support is used for internal standards and external (exams) standards. Examples of SAC include the student being able to have a reader or writer, use a computer, have rest breaks and enlarged papers.
Find out more about Special Assessment Conditions on the New Zealand Qualifications Authority website [2].
See more information for parents about education when a child has cancer [3]