Immunising Children During COVID-19
Immunising Children During COVID-19
Immunisation remains a priority for whānau during all COVID-19 alert levels. You can  protect your child against serious diseases like whooping cough and measles. 
Key points to remember about immunising your child during COVID-19
as a parent, you'd do everything to protect your tamariki
keep up with your child's free immunisations, due at 6 weeks, 3 months, 5 months, 12 months, 15 months and 4 years
immunising your tamariki at the recommended times is the best way to protect them against serious diseases
delaying your child's immunisations can put them at greater risk of serious disease
immunise during each pregnancy to protect you and baby against whooping cough and influenza
immunisation is safe during all COVID-19 alert levels
ask your doctor, nurse or Māori healthcare provider how you can immunise safely
Listen to a 30 second radio ad - as a parent it's more important than ever to protect your tamariki.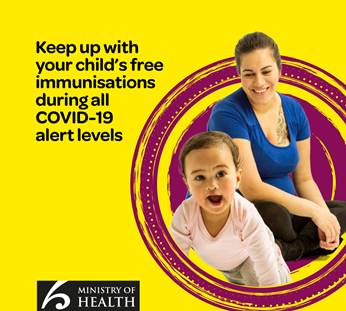 How can I immunise my child safely during COVID-19?
Check a fact sheet (PDF, 337KB) for helpful facts and tips to make your child's immunisations easier and safer during all COVID-19 alert levels. The fact sheet is available at the Health Promotion Agency website in English, Māori, Samoan, Tongan, Chinese simplified and traditional and Hindi.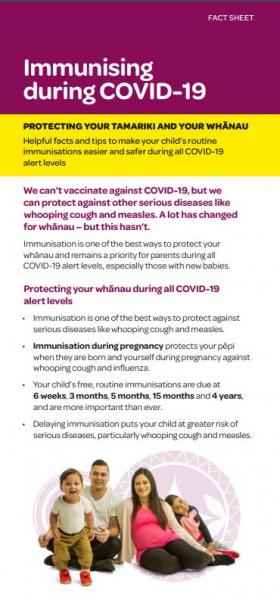 On this page
Print this page