A Good Latch Is The Key To Successful Breastfeeding
Languages
A Good Latch Is The Key To Successful Breastfeeding
Make sure your baby is properly latched. Watch a video showing you how.
Getting your latch right is the key to successful breastfeeding.
Ask to be shown how to feed. 
Make sure your baby is properly attached (latched). If they are latched you will have a good supply of milk and your baby will get a good feed, and your breast and nipples will be comfortable.
There are lots of different positions for breastfeeding. Helpful tips include:
having your baby's head and body in a straight line so they can swallow easily
holding your baby close to you, and supporting their neck, shoulders and back
making sure your baby can tilt their head back easily, and doesn't need to reach out to feed
Watch the video several times!
Mama Aroha - breastfeeding basics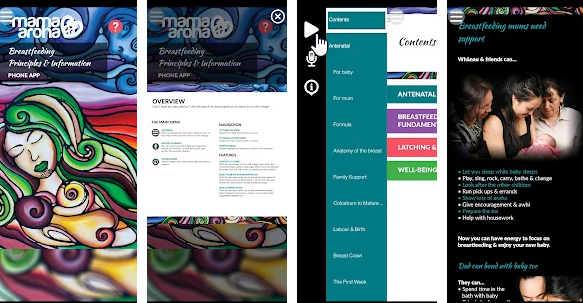 The Mama Aroha app provides information about many aspects of breastfeeding. It includes information on the importance of breastfeeding, support for breastfeeding skin to skin, supply and demand feeding, what to expect, feeding cues, latching and positioning, hand expressing and milk storage.
The app is New Zealand based and connects visuals and kupu Māori to provide a more visually informative resource that is easier to understand. For the complete app description, go to the app website, or get the app from Google Play or App Store.
This page last reviewed 02 June 2013.

Do you have any feedback for KidsHealth?
If you have any feedback about the KidsHealth website, or have a suggestion for new content, please get in touch with us.
Email us now
Print this page