Safe sleep for your baby
Every year, too many New Zealand babies die suddenly during sleep. Many of these deaths can be prevented. Find out how to make every sleep a safe sleep for your baby.
Key points to remember
every year, too many New Zealand babies die suddenly during sleep
many of these deaths can be prevented
How can you help protect your baby from dying suddenly in their sleep?
making sure baby is in their own bed for every sleep (and close to parents/caregivers at night)
making sure baby is on their back for every sleep
keeping baby smokefree from the start
breastfeeding your baby
immunising your baby on time
Make every sleep a safe sleep
Always follow these safe sleep routines for your baby and your baby's bed.
Make sure your baby is safe
Your baby:
always sleeps on their back to keep their airways clear
is in their own bassinet, cot or other baby bed – free from adults or children who might accidentally suffocate them
has a parent/caregiver who is alert to their needs and free from alcohol or drugs
Make sure your baby's bed is safe
Your baby's bed:
has a firm and flat mattress – to keep baby's airways open
has no gaps between the frame and the mattress – that could trap or wedge baby
has nothing in the bed that might cover baby's face or lift their head – no pillows, toys, loose bedding or bumper pads
is close to their parents/caregivers at night for the first 6 months of life
Make sure your baby is healthy and strong
Your baby is:
smokefree in pregnancy and after birth - protecting their lungs and airways
exclusively breastfed to around 6 months of age and continues to be breastfed to 12 months of age
immunised on time
Your lead maternity carer (LMC) will check baby's sleep space for safety at their scheduled first home visit after baby's birth. They'll enter the information in the 'First week assessment' page of your 'My health book'. (Click on the image below).
If you choose to sleep in bed with your baby, put them in their own baby bed beside you – for example, a pēpi-pod® (below left) or wahakura (below right). This will help reduce the risk of your baby suffocating while they are asleep.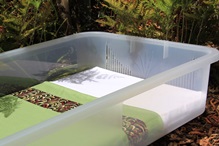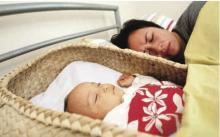 It is never safe to put your baby to sleep in an adult bed, on a couch or on a chair.
Safe sleep for baby when you're out and about
Car seats or capsules protect your baby when travelling in the car. Don't use them as a cot or bassinet. Car seats and capsules are not safe for your baby to sleep in when you are at home or at your destination.
If you are out somewhere, make sure your baby has a safe place to sleep. Take your wahakura, pēpi-pod®, portacot or bassinet with you, and use it on a flat surface. Tilting the sleep device may cause your baby to roll and suffocate.
Financial assistance
If you need financial assistance so that baby can have their own bed, you may be eligible for help from Work and Income. For more information visit the Work and Income website or call 0800 559 009. 
Protect your baby's head shape
When your baby is sleeping, turn their head so that sometimes they face left and sometimes they face right.
Tummy time while baby is awake will help protect their head shape and make their arms strong.
back for sleep
front for play
upright for cuddles and hugs
For more information, see Positional head flattening in babies.
Where to go for more information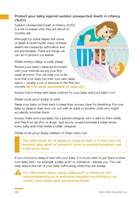 On this page
Printer-friendly version